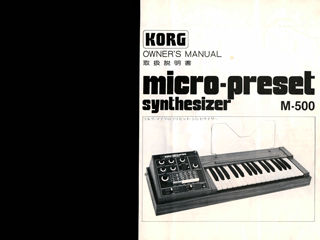 This document was created by dismantling and scanning every page of an actual, original Korg User Manual!
The scans were then processed using Adobe Photoshop in order to clarify the images.
This manual consists of 11 Pages including the front and back covers:
Front Cover
Page 1: Overview of Synthesisers
Page 2: Main Features
Page 3: Control Panel diagram Japanese
Page 4: Control Panel diagram English
Page 5: Controls description Japanese
Page 6: Controls description English
Page 7: Connections
Page 8: Specifications
Page 9: Warnings and use of internal speaker
Rear Cover
This manual is provided as a PDF document, without an index.
£4.99

Bye Bye Payloadz. Hello Synteknik.com
---